Insights, Events and Videos
In China today an average of five family members are available to look after each elderly person. This number is forecast to drop to 1.5 in the next 30 years. With rising longevity and a decline in the national birth rate meaning the country's population is ageing.
Supporting families under pressure
A new ecosystem to meet a new challenge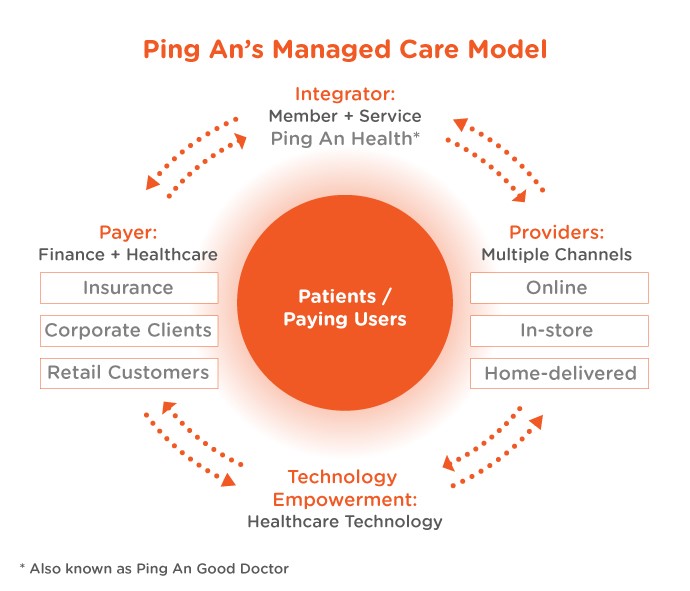 Ping An's closed loop model connects customers with insurance companies and medical service institutions, granting all stakeholders in the healthcare ecosystem easy access to one another.
In response to this challenge, Ping An has developed and launched a new "managed care model" for China that combines healthcare and financial services in a "one-stop" ecosystem. It now provides medical services to some 64% of its 229mn customers.
The new China model is similar to that of United Health Group, which is the leading managed care provider in the US with 149mn customers4. The Forbes Global 2000 rankings for 2023 claim United Health to be the largest insurance company in the world, with Ping An in second place5.
One-stop care, multiple scenarios
When it comes to "insurance plus home-based elderly care", Li says, Ping An integrates internal and external providers and offers one-stop solutions through a committed AI butler, life concierges (online) and doctor concierges. Ten key scenarios are covered, including medical care, housing, nursing, dining and entertainment.
Healthcare: a driver of value growth
Finally, it is worth noting that customers who are entitled to service benefits under the healthcare ecosystem accounts for an increasing percentage of Ping An Life's new business. Users of the new healthcare ecosystem on average hold 3.43 contracts and Rmb55,800 in AUM.
Healthcare, in fact, has become the new driver of value growth at Ping An, which recorded nearly Rmb70bn in health insurance premium income in the first half of 2023.
Xie Guo Tong video – chief of healthcare scientist