Ping An Group
21 May 2020
China awakens to the power of responsible investing
A wave of regulatory change and innovative thinking will enable China to assume its place in the premier leagues of sustainable investment.
As sustainability challenges mount, 2020 promises to be a watershed year for China's embrace of responsible investing – an approach that seeks environmental and social good alongside healthy returns.
China has trailed in an arena fast becoming "the new normal" around the globe. That's set to change this year as Beijing enacts a raft of regulation that forces companies to get serious about sustainability programmes, even as corporate China rallies to the view that green investment is not a mere burden but an opportunity to be welcomed.
Financial authorities set 2020 as the deadline for China's listed companies and primary bond market issuers to comply with rules mandating disclosure of environmental factors. China's Banking and Insurance Regulatory Commission (CBIRC), meanwhile, began 2020 by launching guidance for China-based banks and non-bank financial institutions to incorporate ESG into their entire credit extension regime, among other measures to promote sustainable finance.
The robust action promises to kindle a long-awaited big bang in Chinese responsible investment, anchoring it in an ESG investment space that has grown to an estimated 40 per cent of all professionally managed assets. Fiona Reynolds, CEO of the UN-backed Principles for Responsible Investing (PRI), says that in the "fast-moving wave" of sustainable investment, China's role has "been more of a ripple" – but that now it's on the cusp of astonishing change.
"I have little doubt that (the number of firms signing up to PRI) is set to grow exponentially over the coming years as ESG takes hold in China," Reynolds said in an Op-Ed in the Nikkei Asian Review. "And the opportunity is clearly huge."
Leadership by example
Ping An has assumed a pioneering role in China's ESG efflorescence. By becoming China's first asset owner to join PRI last year, it established a culture for other Chinese AOs (which have lagged asset managers in ESG factor adoption) to follow suit.
PRI chief Reynolds calls Ping An's decision "a milestone on China's road toward the full embrace of ESG."
Ping An ended 2019 with a new milestone. It became China's first asset owner to join Climate Action 100,+ a global investor initiative that pressures the world's biggest greenhouse gas emitters to take climate change action.
With $435 billion in insurance investment funds, Ping An wields clout in influencing corporate action. And Climate Action 100+ participants, Ping An included, do not shrink from applying shareholder activism to enforce ESG compliance and proactive green action.

Ping An subjects high-carbon emission industries to a rigorous monitoring system in line with Climate Action 100+ guidelines, refraining from investment in violators. Beyond screening, Ping An commits to investment in green industries such as wind- and hydro-power. It also leaves open the option of direct private equity involvement in promising ventures.
Return on responsibility
A critical driver of China's mindset transformation regarding responsible investment is a growing body of evidence – including a recent study by the International Monetary Fund – that social and environmental factors are compatible with competitive returns.
Ping An believes ESG considerations to be a powerful driver of long-term investment return. There's a key synergy here with Ping An's insurance funds – the bulk of its investment portfolio – which have a mission to pursue of steady, long-term returns. For an insurer, ESG policy is simply an excellent hedge against risk.
Challenges and opportunities
To be sure, challenges abound in the road ahead. One hurdle is the dearth of ESG data to guide responsible investment. Nan Luo, head of China for PRI, calls China's poor data quality "one of the biggest barriers investors face."
Ping An is ready to break down this barrier. It is developing a AI-ESG platform that crunches massive amounts of data to flag ESG risk and provide granular metrics. Ping An has already established itself as a leader in machine learning, through fin-tech and healthcare platforms. Now its AI-ESG system will track and analyse more than 500 ESG indicators of Chinese enterprises across environmental disclosure, responsible products, corporate governance, financial reporting, human resources and media intelligence – assigning ESG scores to inform investment decisions.
The system is expected to be ready before the end of 2020, and Ping An will make it available to the industry: "We can empower the industry with this set of tools," says Richard Sheng, Ping An Group Board Secretary.
Tech contributions such as these are one reason Ping An became the first Chinese company named to the Dow Jones Sustainability Emerging Markets Index.
Another obstacle is widespread absence of a unified corporate governance framework for responsible investment. Here too, Ping An seeks to generate change. The group embeds its ESG vision across group members, at every level of management. Ping An's Board of Directors has oversight over all ESG issues, fostering responsible management at the apex of a network of bodies that execute sustainable policy.

Concrete action, measurable results
As Ping An carves new paths in Chinese responsible investment, it leaves behind a record of results. Ping An has achieved more than RMB 1 trillion (US$140 billion) in responsible investment from clean energy to affordable healthcare. It has extended green credit lines of more than RMB 62 billion (US$8.5 billion), with a balance of loans at the end of 2019 exceeding RMB 24 billion (US$3.4 billion).
ESG investing may sound like a nebulous idea. In reality it's a set of seven specific strategies to generate measurable results within the UN SDG framework. Ping An works with all seven approaches, putting strong focus on three.
ESG Integration: Integration is a critical concept in responsible investing, involving systematic incorporation of ESG priorities into investment decisions through data analysis. ESF factors are being integrated into quantitative strategies and credit rating models of investment funds. Ping An also applied its unique integration methodology in the design of its equity and bond products.
ESG Themes: Alongside climate change, global water scarcity is a key Ping An theme. The World Economic Forum identifies the problem as one of the top five risks facing humanity. In 2018, Ping An Trust launched a RMB 10 billion (US$1.4 billion) water investment fund. It brings together a trio of UN SDG imperatives: climate mitigation, clean energy, and clean water and sanitation. In March, Ping An's global asset management arm became the first Asian institutional investor to become a partner of the global Climate Bonds Initiative.
Impact Investing: Impact investing seeks positive change alongside financial return. For Ping An, the flagship initiative is the Ping An Rural Communities Support programme. It deploys digital technologies to empower rural Chinese communities with education, healthcare and entrepreneurship guidance. Ping An has invested RMB15.7 billion (US$2.2 billion) to support the upgrade rural industries across more than 21 provinces or autonomous regions in China. The programme is underpinned by a key idea: community outreach is not only an unambiguous good but also a generator of future markets.
Wolfberry project in Ningxia, China where Ping An helped the wolfberry industry create a blockchain-enabled platform to improve productivity and product traceability. The platform monitors weather conditions and crop growth to safeguard production. Product traceability helps boost consumer trust in the wolfberry industry.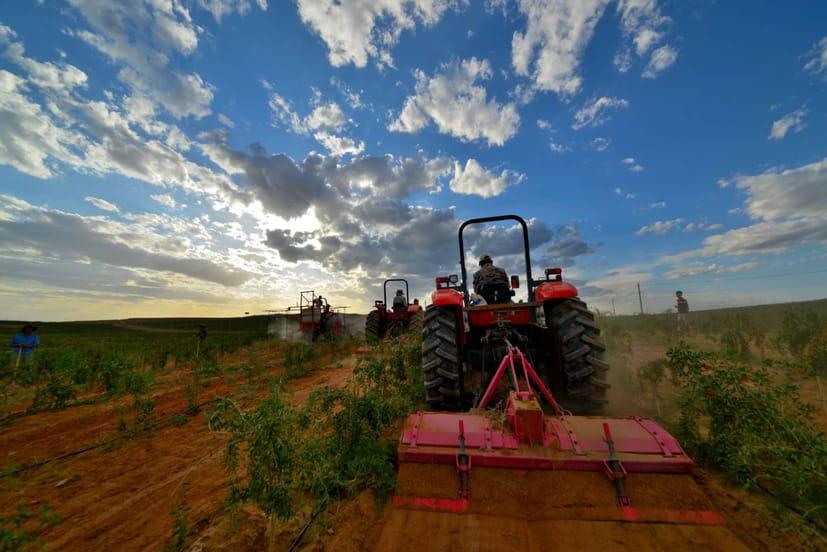 Tractors till wolfberry fields in Ningxia in a Ping An Rural Community Support programme that has provided RMB15 million funds and RMB330,000 worth of Internet of Things equipment for 7,250 people from low-income households.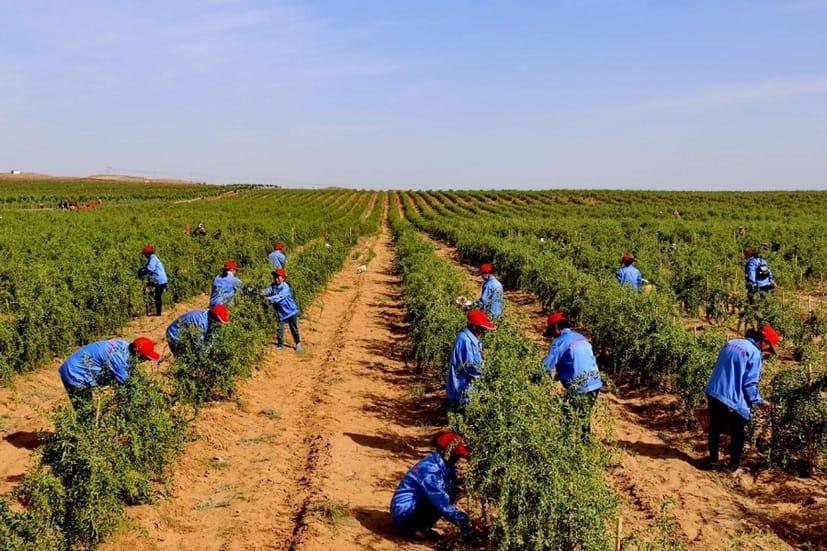 ESG is in Ping An's DNA. As the Shenzhen-based firm opens trails in responsible investing, it keeps its eyes fixed on the core mission embodied by the name Ping An: safety and well-being for future generations.
Produced by the commercial department of the Financial Times