Ping An Group
23 Oct 2018
Ping An and Merian Global Investors Sign Historic Strategic Agreement
(Hong Kong, Shanghai, 23 October, 2018) Ping An Insurance (Group) Company of China, Ltd. (hereafter "Ping An" or the "Group", HKEx: 2318; SSE: 601318) today announced that Ping An of China Asset Management (Hong Kong) Company Limited, (Ping An Asset Management (Hong Kong)), the wholly-owned subsidiary of the Group signed a Memorandum of Understanding (MOU) with Merian Global Investors (UK) Limited (Merian Global Investors), the UK-headquartered asset management business.
The MOU marks the formal commencement of a new strategic partnership between the two businesses, bringing together their skills and expertise to the benefit of both organizations and their clients.
Having already achieved success through cooperation in providing investment advisory services (management of the Merian China Equity Fund was outsourced by Merian Global Investors to Ping An Asset Management (Hong Kong) in March 2018) the MOU aims to further the alliance between the businesses.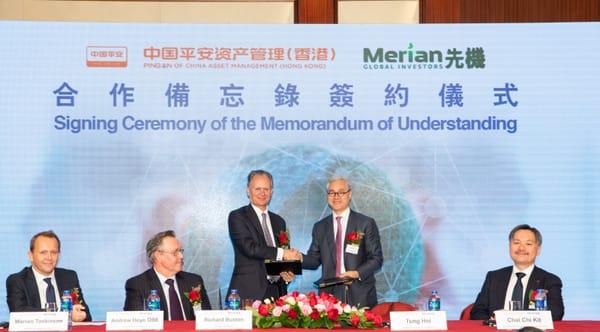 It is the first agreement of its type signed by both organizations and demonstrates the developing openness and consequent benefits of strategic relationships between both parties. Under the terms of the MOU, both parties will aim to work together to explore business development opportunities in the fund distribution, marketing and investment advisory space, including knowledge sharing and training.
Mr Hoi Tung, the Co-CIO of Ping An Insurance (Group) of China comments: "This strategic relationship actually marks the beginning of our successful transformation to becoming a truly third-party asset manager from purely managing our in-house insurance capital by leveraging our strength in local market knowledge and investment expertise. We are very excited about entering this strategic cooperation with Merian Global Investors and we look forward to continuing to forge a deeper and stronger relationship in the future."
Richard Buxton, CEO, Merian Global Investors comments: "We're thrilled to have entered into a new alliance with Ping An Asset Management (Hong Kong). Growing our presence in Asia is one of our core strategic aims and the opportunity to partner with one of China's largest and most respected financial services businesses is incredibly exciting. We believe that access to the local knowledge and investment advisory expertise of a specialist Chinese asset manager will be of great benefit to our clients. I have every confidence this will be a highly-rewarding partnership and I look forward to sharing more details on our joint activity in due course."
Andrew Heyn, British consul general to Hong Kong and Macao, adds: "I believe that the partnership Ping An Asset Management (Hong Kong) and Merian Global Investors are embarking upon today is an excellent demonstration of the developing interest between these nations' corporations and how this can benefit their clients and contribute to their future success."